Gujarat: NPA drops 2.1%, RBI's PCA works for PSBs
Strong arm tactics of national banking watchdog, the Reserve Bank of India (RBI), over Public Sector Banks (PSBs) with high bad loans seems to have been working, at least in Gujarat. After RBI put 11 PSBs under Prompt Corrective Action (PCA), meaning that these banks will have to freeze all their landing till bad loans are under control, the amount of their bad loans have decreased by 2.1 per cent, although rising marginally in per cent terms, according to April-June quarter report of State Level Bankers Committee (SLBC) in Gujarat.
However, bad loans of remaining nine PSBs (not including State Bank of India – SBI) have risen both in absolute terms (by 12.19 per cent) and in percentage (by 0.64 percentage points). Representatives of small businesses said that they are at the losing end as the pipeline of bank finance has dried up because of this.
RBI had, in March and April this year, put 11 banks under PCA. These are Allahabad Bank, Bank of India, Bank of Maharashtra, Central Bank of India, Corporation Bank, Dena Bank, IDBI Bank, Indian Overseas Bank, Oriental Bank of Commerce, United Bank of India and UCO Bank. Their Non Performing Assets (NPA) dropped by 2.26 per cent to Rs 15,105.67 crore in April-June quarter of 2018-19 compared to 15,429.42 crore in January – March quarter of 2017-18.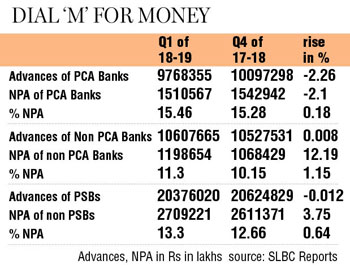 However, NPA of remaining nine PSBs, not put under PCA, rose 12.19 per cent from Rs 10,684.29 crore to Rs 11,986.54 crore in the same period. In per cent terms also it rose from 10.15 per cent to 11.3 per cent. NPA of all 20 PSBs rose 3.75 per cent to Rs 27,092.21 crore from Rs 26,113.71 crore. Total bank NPA in the state stood at Rs 37,341.77 crore, a rise of about 6.03 per cent compared to Rs 35,219.76 crore in previous quarter. Per cent NPA also rose from 6.53 per cent to 6.84 per cent in the same time period.
An officer in a leading PSB said that rise in NPA of non-PCA banks is because even they have slowdown their lending, while NPAs have continued to rise. "Advances are the main source of revenue for banks. Regulations for lending have been tightened for all banks. Individual banks have also tightened regulations in their own way. Consortium advances and corporate advances have come to a standstill. If this continues, NPAs will rise over 15% by the end of the current fiscal," said the official.
Nilesh Shukla, honourary secretary – regional of Gujarat Chamber of Commerce and Industry (GCCI) said small businesses are the biggest losers in the game. "Already the demand is muted in the market. In case small players get orders, getting bank loans is very difficult and often they have to lose a contract as they do not get sufficient finance on time. Small businesses also need finance to upgrade themselves technologically, or else they will be out of the game. Lending norms for accidental defaulters should be different from willful defaulters," said Shukla.
Read More