India may take middle path for Iranian oil
As the deadline for US sanctions against Iran oil imports closes in, the decibel level of comments from both India and the US have shot up.
After an extensive talk during the 2+2 dialogue last week, India has been asserting that it would consider commercial aspect rather than political compulsion on the issue of a complete withdrawal of oil imports from Iran by November 4.
The US, on the other hand, is reiterating that it wants Iranian oil exports to fall to zero by the deadline set by it.
Analysts, DNA Money spoke to, believe the two nations could walk the mid-path with India buying more oil from the US without replacing it with Iran imports. Currently, India is the second largest importer of oil from Iran after China.
Arun Singhal, chief editor, Dew Journal, told DNA Money there will have to be a "diplomatic adjustment" between the two countries as India cannot afford to put a "full stop" to its purchase of Iran oil, which is cheaper compared to US oil. There is also the issue of energy security that India will consider before pulling out entirely from its Iranian imports of petroleum.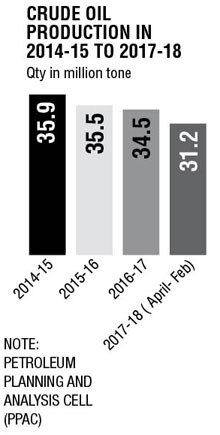 At the same time, he said, it cannot strain its relations with the US; "it will have to be a diplomatic adjustment that India will have to make with both Iran as well as the US. That is the only way out because India cannot afford to put a full stop to Iran oil imports. India also needs to keep the US in good humour. Its a tightrope walk for India and it needs to keep a balance while taking any decision on this matter. The US should also understand this".
Mriganka Jaipuriyar, associate editorial director, S&P Global Platts, put out an article on Wednesday stating that Indian refiners were stepping up their US crude purchases as the cloud of uncertainty hangs over future buys from Iran.
"There have been questions around India -- the second-largest buyer of Iranian crude -- which is under pressure from the US government to cut its reliance on Iran's oil. This occurs as Indian refiners are dramatically stepping up their US crude purchases as questions loom over future purchases from Iran and the trade war heats up between Beijing and Washington," she wrote.
The editor of the energy research firm stated in her write-up that Iran's exports to India in August fell by more than 2.5 lakh barrel per day (bpd).
On the whole, oil exports from Iran fell to their lowest level in seven months in August with the spectre of US sanction looming on the horizon. She said, as per the data from S&P Global Platts trade flow software cFlow, the threat of US sanctions had started impacting buyer behaviour with exports from Iranian ports falling 17% on the month to 19.2 lakh bpd in August.
"Exports to Asia slumped to 1.3 million bpd in August from 1.76 million bpd in July as flows to China, India and Japan all declined. China, which is expected to remain the biggest buyer of Iranian crude despite the sanctions, saw purchases fall by more than 200,000 bpd month on month. Similarly, exports to India in August fell by more than 250,000 bpd," she said in her report.
Another estimate puts India's oil imports from Iran at 5.23 lakh bpd in August, which was down 32% on a month earlier as US pressure on India mounts. This was after it had jumped 30% in July to 7.6 lakh bpd on a month-on-month basis. In the same month, oil shipments from Iran to India was 85% higher compared with 4.15 lakh bpd in the previous year.
Post the 2+2 dialogue, government officials are reportedly making it clear that any uptick in the higher US oil imports should not be taken as a replacement for Iranian crude.
And as India increases its US oil intake, refiners such as Indian Oil Corporation (IOC) are buying more from the US. This has seen US oil import into India surge by 2.1 million between April 2017 to February 2018.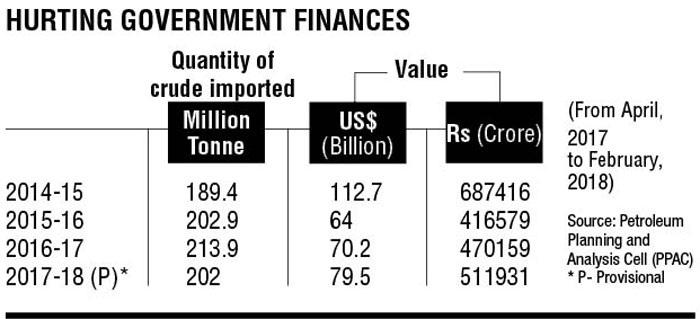 And as the Trump administration gets aggressive on its mission to bring down Iran's oil exports to zero by November, the flow of US oil to India is expected to increase further.
India may get a few concessions and relaxation, but the US secretary of State Mike Pompeo, who was recently in India to meet top Indian officials to discuss Iranian oil, among other things, has very clearly stated that Washington would look at waivers "where appropriate", but the US expected to have Iranian oil exports of all countries come down to zero or else the US sanction would be enforced.
The US is reiterating that it wants Iranian oil exports to fall to zero by the deadline set by it India's oil imports from Iran at 5.23 lakh bpd in August was down 32% on a month Exports from Iranian ports fell 17% on-month to 19.2 lakh bpd in Aug
Read More