Maharashtra Bandh LIVE: Hindu Janajagruti Samiti Demands Arrest of Umar Khalid, Jignesh Mevani for Inciting Riots
Jan 3, 2018 9:44 pm (IST)
16 arrival and 16 departure flights of Jet Airways to Mumbai airport have been cancelled. One indigo flight from Mumbai has also been cancelled.
Jan 3, 2018 8:48 pm (IST)
Hindu Janajagruti Samiti has demanded the arrest of Umar Khalid and Jignesh Mevani, alleging that they incited the riots in Bhima-Koregaon.
Jan 3, 2018 8:16 pm (IST)
Mumbai International Airport Private Limited (MIAL) Press Release
Mumbai Airport mitigates inconvenience caused to fliers during Maharashtra Bandh
While the impact of 'Maharashtra Bandh' was felt across the city today, Mumbai International Airport Private Limited (MIAL) undertook numerous measures and initiatives to ensure that passengers travelling through Chhatrapati Shivaji International Airport (CSIA) were least affected by the protests.
Anticipating that the protests may aggravate during the course of the day, MIAL activated its contingency plan in the morning. While the flight operations were running smoothly, the absence of private cab operators and the limited availability of autos created inconvenience for passengers. To facilitate transportation of passengers from the airport to the nearest stations, MIAL arranged for services of the BEST buses from Terminal 1 & 2.
However, as the unrest escalated, crew members of certain airlines reported late while few could not make it to the airport which lead to cancellation of few flights. As cases of stone pelting were reported from parts of Andheri, BEST bus services were discontinued. As passengers opted to stay inside the airport terminal buildings, MIAL, in order to comfort the travellers, arranged for free refreshments which included tea, water bottles and snacks. In addition to this, MIAL also allocated additional check-in counters to airlines to cater to passengers who were scheduled on cancelled flights.
As of 5 PM, 8 departure and 7 arrival flights were cancelled while autos and taxis resumed services from both the terminals.
Any further cancellations, will be known only by 8:30 pm.
Jan 3, 2018 6:00 pm (IST)
Traffic in Mumbai is now back to normal. Amitesh Kumar, Joint CP, Traffic, said, "All roads have been cleared and traffic has been cleared."
Jan 3, 2018 5:52 pm (IST)
Inquiry will be conducted in the incidents of violence that took place across Maharashtra. We are monitoring the CCTV footage of the violence: Maharashtra Chief Minister Devendra Fadnavis
Jan 3, 2018 5:40 pm (IST)
While Prakash Ambedkar has called off the bandh, he issued a warning to the state government and the BJP. Ignore the unrest at your own cost. Ultimately you are responsible for law and order situation, he said.
Jan 3, 2018 5:32 pm (IST)
Congress leader Veerapa Moily, reacting to the situation in Mumbai, said that this was the most unfortunate incident. The Mumbai Police said they did not expect this kind of eruption, he said.
Jan 3, 2018 5:27 pm (IST)
Western Railways have taken to Twitter to assure people that services that all services are functioning normally. In a tweet they said, WR is geared up to run all services during evening peak hours as per regular time table for commuters to safely reach their destinations. Additional security staff have been deployed at stations. All lines are working. We wish safe journey to our commuters. They added that there is no disruption on in the section run by Western Railways section in Mumbai. Suburban and long distance services are running on all lines. Efforts being made to provide local trains at regular interval/every 10 minutes during evening peak hours. Administration and security forces on alert and monitoring the situation.
Jan 3, 2018 5:12 pm (IST)
The Railways has issued a statement saying as of 4 pm, 820 suburban trains are running while 110 have been cancelled. Another 30 special trains have been run. Average delay time is 20 to 25 minutes. Evening peak services are expected to run normally. Among long distance mail/express trains, including trains which pass through Mumbai, there have been no cancellations. We are committed to ensure smooth operations of trains on Central Railway, the statement said.
Jan 3, 2018 5:02 pm (IST)
Prakash Ambedkar: BJP digging its own grave by not arresting the two accused. I don't believe that there was vandalism today. Protest was peaceful, was held to express our anger. The people who have participated in the protest are not just Dalits. The youth who died is from Kandhar in Nanded, yet to be identified. We have all called off this bandh.
Jan 3, 2018 4:59 pm (IST)
Although the band has been called off by Prakash Ambedkar, the situation is still far from returning to normal on the ground in Mumbai. The situation in Ramabai Nagar at Ghatkopar is apparently getting more tense. The Eastern Expressway is still blocked with protesters allegedly stopping vehicles and threatening commuters. Even ambulances without patients are also being targeted.
Jan 3, 2018 4:28 pm (IST)
Several congested places in Mumbai as of now. Traffic diversions have been effected. in the city, Mela Junction, Worli Naka abd Malet / Orange Gate Junction are effected. along the the Eastern Expressway, places like Sion Junction in Matunga, Amarmahal Junction, Chedanagar Junction, Ramabai Nagar and Mankhurd T Junction in Govandi have been impacted by congestion. Meanwhile, around LBS Road, places like Kamani Junction in kurla, Shreyas Junction in Ghatkopar, and Gandhinagar in Ghatkopar are still congested. In JVLR, IIT, Powai, main gate has been impacted by the bandh along with Gandhinagar in Ghatkopar. Along the Eastern Freeway, IOC Junction, Mankhurd, Panjrapol, Trombay, and the tunnel after Bhakti Park has been affected. in the West, Akurli Road and Samta Nager are congested.
Jan 3, 2018 4:19 pm (IST)
Prakash Ambedkar, grandson of Dr Babasaheb Ambedkar, has called off bandh. Milind Ekbote and Sambhaji Bhide, the two accused of inciting the violence against Dalits that led to the bandh, are likely to be arrested.
Jan 3, 2018 4:13 pm (IST)
Jet airways further waives off cancellation charges. Jet Statement: Due to unrest in Mumbai, Pune & Aurangabad, we've extended the waiver on change and cancellation charges, including fare difference if any, on all confirmed tickets for flights to and from Mumbai, Pune & Aurangabad, on 4th January, 2018.
Jan 3, 2018 3:52 pm (IST)
Shiv Sena leader Neelam Gorhe said incidents of violence at Bhima Koregaon and elsewhere in the state were unfortunate. "There is an attempt to create a social divide which we have to foil unitedly," she said. The government has ordered a judicial inquiry and "root cause of the violence will be clear after the probe," she added. The district collector and police should have taken appropriate steps to help those stranded at Bhima Koregaon village in Pune district after the violence on January 1, she said.
Jan 3, 2018 3:51 pm (IST)
As violent protests were reported from Mumbai and other parts of Maharashtra amid the Maharashtra Bandh called by Dalit leaders, political parties reacted cautiously, appealing for restoration of peace. Dalit agitators are protesting the violence against the bicentennial anniversary celebration of the Bhima-Koregaon battle on January 1 in Pune district. State NCP president Sunil Tatkare said the need of the hour is to restore peace and harmony in the state. "(NCP chief) Sharad Pawar has already said that everybody should try to ensure that there is peace and harmony," Tatkare told PTI.
Jan 3, 2018 3:44 pm (IST)
Patidar leader Hardik Patel attacked the government over the violence in Maharashtra and said the country is witnessing politics of divide. He urged Indians to wake up against such forces.
देश में दोबारा आ गई फूट डालो और राज करो की नीति,सत्ता के लिए मानवता लड़ रही हैं।जागो सभी हिंदुस्तानी
— Hardik Patel (@HardikPatel_) January 3, 2018 Jan 3, 2018 3:34 pm (IST) Jan 3, 2018 3:08 pm (IST)
Commercial establishments in Nasik and Satpur, Ambad, Nashik Road localities remained closed. Buses of the Maharashtra State Road Transport Corporation and auto rickshaws too remained off the road. Bandh was also being observed in Manmad and Lasalgaon. A Manmad-Lasalgaon ST bus was stoned this morning at the Lasalgaon Railway Gate and some agitators tried, unsuccessfully, to set the bus on fire, according to the rural police control room officials. Police commissioner Ravindra Kumar Singhal and District Superintendent of Police Sanjay Darade have requested people not to believe rumours or forward false or inflammatory WhatsApp messages.
Jan 3, 2018 2:48 pm (IST)
RSS blames JNU brigade
Reacting to Congress' allegation that the RSS and Hindutva outfits are behind the violence in Koregaon. The RSS said the JNU brigade is behind the violence. "People who wants to divide India is behind this violence." said RSS' Manmohan Vaidya
Jan 3, 2018 2:31 pm (IST)
Protest outside Maharashtra Sadan
Students belonging to AISA are protesting outside the Maharashtra Sadan in Delhi against the Bhima-Koregaon violence. The student protesters are demanding judicial probe against those responsible for the violence.
Jan 3, 2018 2:05 pm (IST)
Stone-pelting, road blockades in Nagpur
Several markets and most schools in the city remained closed with protest marches taken out in many sensitive areas. Joint Commissioner of Police Shivaji Bodhke told PTI that two incidents of stone pelting were reported in the city. A man got injured in stone pelting in New Kamptee area, he said. Protesters blocked a road in Hingna area while tyres were set on fire on roads at some places, he said, adding that tight security arrangements have been made across the city. Two companies of the State Reserve Police Force and 250 home guards have been pressed into service. Police have appealed organisers of protest marches not to block roads, and hand over their memorandums of demands to police stations in the area, Bodhke said.
Jan 3, 2018 2:01 pm (IST) Jan 3, 2018 1:54 pm (IST) Jan 3, 2018 1:34 pm (IST)
The Congress continued its attack on the government over the violence against Dalits in Maharashtra's Bhima-Koregaon village. "Dalits are being beaten up, raped and murdered in all BJP ruled state. After BJP came in power you can see what's happening all around, said Ghulam Nabi Azad
Jan 3, 2018 1:16 pm (IST) Jan 3, 2018 1:06 pm (IST)
Remaining services of AC local suspended for the day in view of protests.Other suburban services are being run amid intermittent protests at Elphinstone Rd, Goregaon, Dadar, Malad.There is no cancellation of long-distance trains, informs Western Railway. "Please don't rely on rumours and only follow official updates," adds Western Railway.
Jan 3, 2018 12:52 pm (IST)
A look at the sharp increase in caste-related riots in India: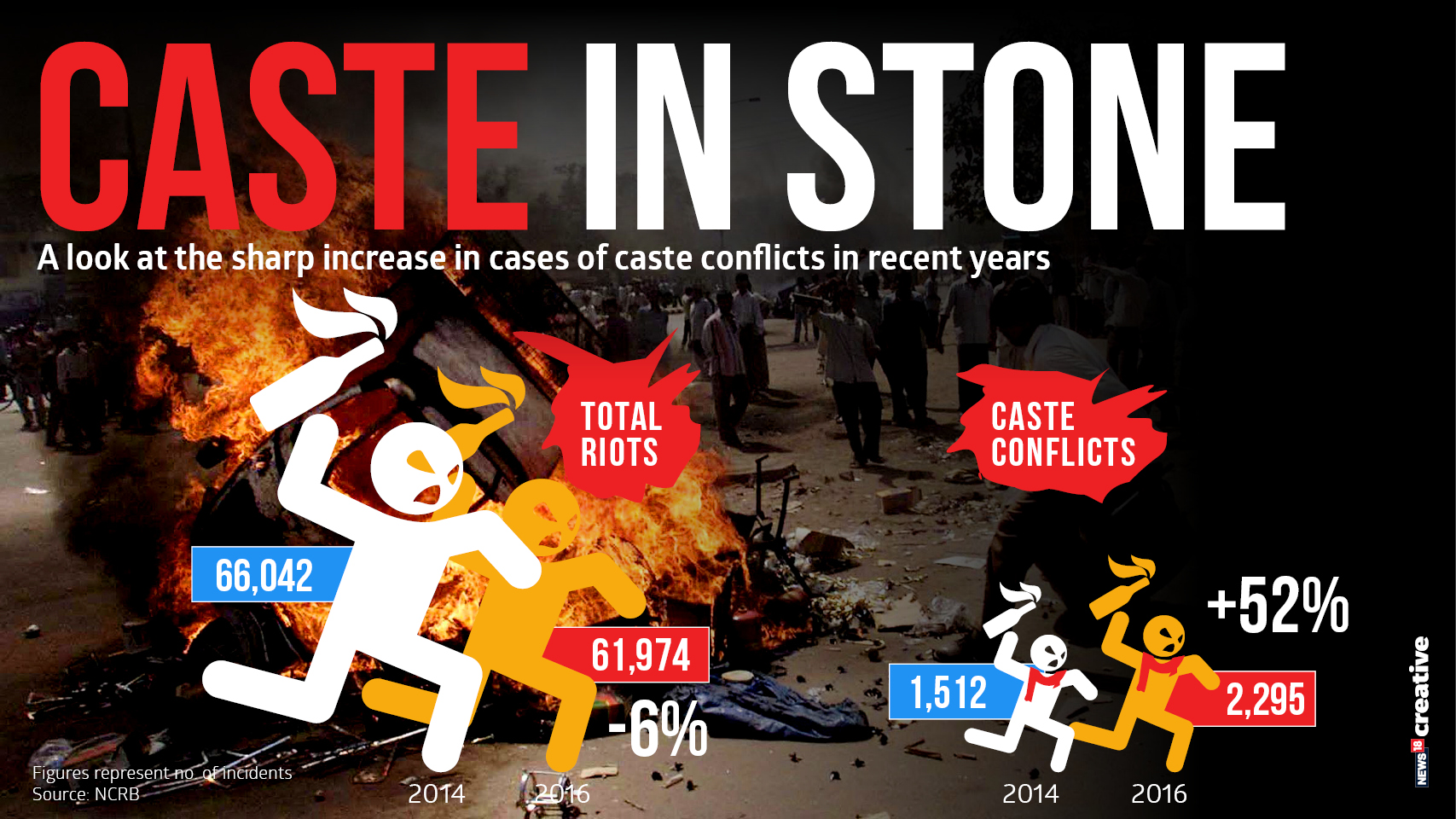 Jan 3, 2018 12:51 pm (IST)
A look at the major causes for riots in India: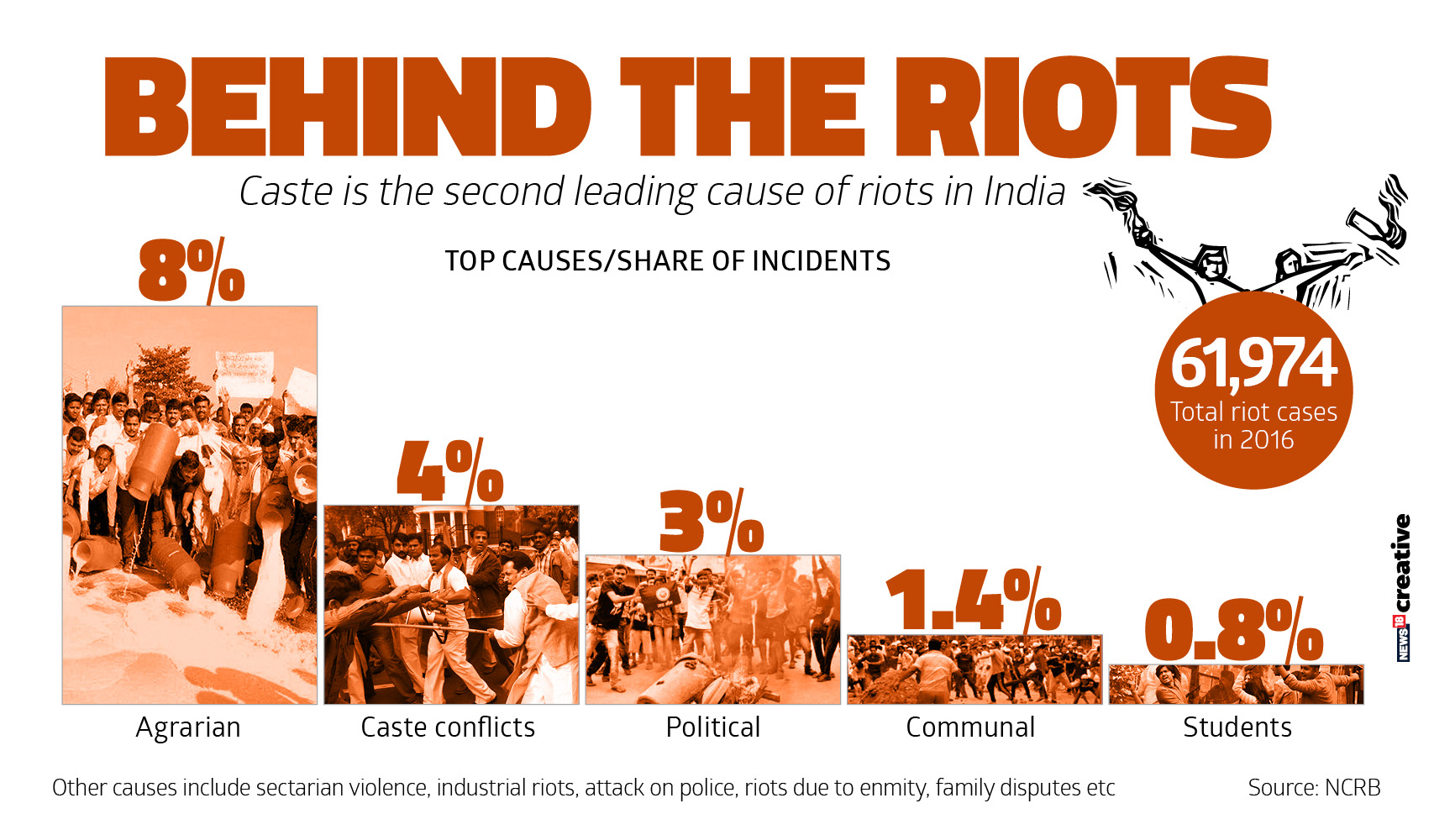 Jan 3, 2018 12:50 pm (IST)
Read More