Asus ZenFone 5Z was always designed with a 'notch' in mind: CEO Jerry Shen
Written by Anuj Bhatia | New Delhi | Updated: July 5, 2018 7:02:39 am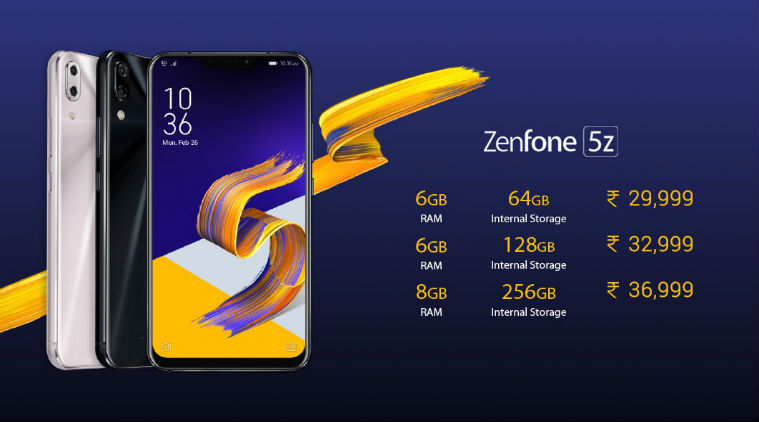 Asus ZenFone 5Z was designed with a 'notch' from the early stages.
Asus has launched the ZenFone 5Z in India, and like every other smartphone these days, there is a small 'notch' above the screen. The critics are quick to point out that Asus copied Apple's design approach. But the truth is that the ZenFone 5Z was designed with a 'notch' from the early stages.
"We started working on the ZenFone 5Z in early Q2-Q3 of last year," Jerry Shen, CEO of Asus, told indianexpress.com in an interview. "We were clear from the beginning that the screen has to be good, so we thought of adding a notch". He added: "Qualcomm helped us to perfect the notch design and incorporate AI features into the ZenFone 5Z."
Also read: Asus Zenfone 5Z first impressions: At Rs 29,999, this packs a good performance
Not everyone loves the notch design. In its defense, Shen says the company wanted an edge-to-edge screen and it had to accommodate a front-facing camera and other sensors somewhere, and that's why it adopted the notch design approach.
Apple's iPhone X was the first global smartphone that made the notch design more mainstream. Since then several major smartphone companies, including Huawei, Vivo, Oppo, Xiaomi, have come with the phones with the controversial notch design. The list is endless.
However, Shen also believes that the smartphones we are seeing today belong to the first generation of bezel-less devices. A notchless design could be the future, although he did not reveal when the company plans to launch such device on the market.
Also read: Asus ROG Phone with Snapdragon 845 processor to launch in India this year
At the moment, Asus is fully focused on the ZenFone 5Z, which is pitched as the cheapest Qualcomm Snapdragon 845 smartphone on the market. It starts at Rs 29,999 for the base variant and goes up to Rs 36,999 for the top-end model. That makes it a value for money flagship smartphone when you compare it with the OnePlus 6, Honor 10, and Vivo X21. Asus ZenFone 5Z will be exclusive to Flipkart.
Sometime this year, Asus would also like to bring the ROG Phone to India – its first gaming smartphone to be made under the Republic of Gamers brand. The device promises to offer a top-notch portable gaming experience, something the community of hardcore mobile gamers will resonate.
For all the latest Technology News, download Indian Express App
© IE Online Media Services Pvt Ltd Tags: ASUS Asus ZenFone
Read More