Hurricane Florence: Wind approaches outer banks of North Carolina
By: Express Web Desk | Updated: September 14, 2018 8:16:15 am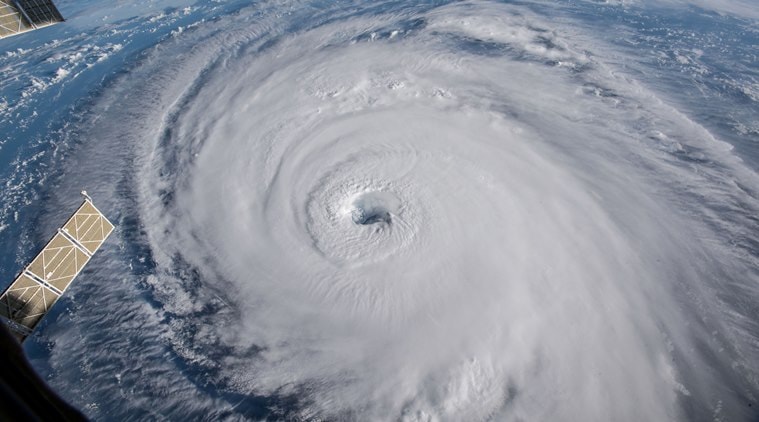 A view of Hurricane Florence is shown churning in the Atlantic Ocean in a west, north-westerly direction heading for the eastern coastline of the United States. Reuters
The Hurricane Florence has began to unleash fierce rains across the US southeast. According to forecasters, the center of Florence is expected to hit North Carolina's southern coast Friday, then drift southwest before moving inland on Saturday. Florence's maximum sustained winds were clocked on Thursday at 105 miles per hour (165 kph). Beside inundating the coast with wind-driven storm, Florence could dump 20 to 30 inches (51-76 cm) of rain, with up to 40 inches in parts of North Carolina, the National Hurricane Center predicts. Downpours and flooding would be especially severe, lasting for days, if the storm stalls over land.
As Hurricane Florence is growing in size and intensity, here's how you can track the path LIVE
[embedded content]
More than 1 million people had been ordered to evacuate the coasts of the Carolinas and Virginia and thousands have moved to emergency shelters. Emergency declarations were in force in Georgia, South and North Carolina, Virginia, Maryland and the District of Columbia. Millions of people are expected to lose power and it could take weeks to resolve the outages. US President Donald Trump on Tuesday signed declarations of emergency for North Carolina, South Carolina and Virginia, freeing up federal resources for storm response.
"We are sparing no expense. We are totally prepared," Trump said at the White House.
Trump faced severe criticism for his administration's response to Hurricane Maria last year in Puerto Rico. Some 3,000 people died in the aftermath of that storm.
For all the latest World News, download Indian Express App
© IE Online Media Services Pvt Ltd
Read More