Official: Justice Ranjan Gogoi is next Chief Justice of India
By: Express News Service | New Delhi | Updated: September 14, 2018 4:48:07 am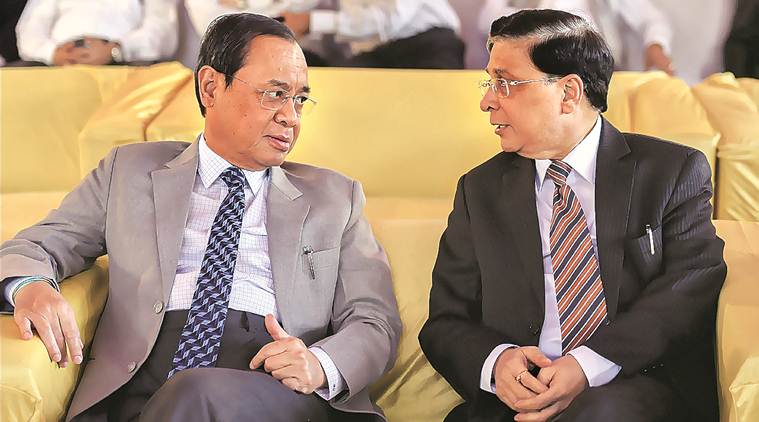 Justice Gogoi with outgoing CJI Justice Dipak Misra. (File)
JUSTICE RANJAN Gogoi, the most senior judge in the Supreme Court after Chief Justice Dipak Misra, was appointed as the next Chief Justice of India on Thursday.
"The President of India has appointed Justice Ranjan Gogoi as the next Chief Justice of India. He will assume the office of Chief Justice on October 3, 2018 after the retirement of the current Chief Justice, Justice Dipak Misra," said a press release issued by the Prime Minister's Office.
As the 46th Chief Justice of India, Justice Gogoi will have a tenure of about 13 months, till November 17, 2019.
READ | Who is Justice Ranjan Gogoi?
Earlier, there was speculation on whether his name would be overlooked for the CJI's post, following the unprecedented press conference on January 12 this year, when Justice Gogoi and three colleagues — Justices J Chelameswar (since retired), Madan B Lokur and Kurian Joseph — raised questions on the CJI's allocation of cases to benches in the Supreme Court. Justice Gogoi had told reporters that "it's the discharge of a debt to the nation that has brought us here". Read: Challenges for the next CJI
But CJI Misra, on September 4, adhered to the tradition of recommending the most senior judge after him for the high office.
The son of former Assam Chief Minister Kesab Chandra Gogoi, Justice Gogoi joined the Bar in 1978. He practised mainly in the Gauhati High Court, where he was appointed Permanent Judge on February 28, 2001. In September 2010, he was transferred to the Punjab & Haryana High Court, where he was elevated as Chief Justice on February 12, 2011. On April 23, 2012, he was elevated to the Supreme Court.
ALSO READ | Colleagues on Justice Gogoi: 'He is a no-nonsense judge… a big heart who thinks with his mind'
At the Supreme Court, Justice Gogoi headed the bench that directed the government to set up special courts to fast track cases against politicians. In May this year, his bench struck down an amendment passed by the Uttar Pradesh government that allowed all former chief ministers to retain their official residences.
Justice Gogoi was also part of the seven-judge bench, which, in May 2017, held Calcutta High Court Judge C S Karnan guilty of contempt of court. In their judgment, Justices Gogoi and Chelameswar pointed out the "need to revisit the process of selection and appointment of judges to the constitutional courts", and the "need to set up appropriate legal regime to deal with situations where the conduct of a judge of a constitutional court requires corrective measures, other than impeachment".
Currently, the bench headed by Justice Gogoi is monitoring the updation of the National Register of Citizens, intended to identify illegal migrants in Assam. He is also dealing with a plea seeking appointment of Lokpal.
At the Ramnath Goenka Memorial Lecture organised by The Indian Express in July, Justice Gogoi had said that noisy judges and independent journalists are democracy's first line of defence and a revolution, not mere reform, is needed to keep the institution of the judiciary responsive to the changes in society.
Justice Gogoi, a stickler for discipline, has taken a tough stand on the practice of filing frivolous PILs. Recently, a bench headed by him imposed a fine of Rs 25,000 on a person who filed a plea seeking guidelines on caesarean deliveries. Earlier this week, another bench headed by him dismissed two PILs, including one challenging the appointment of Vigilance Commissioner Sharad Kumar. "PIL is for those who cannot afford to come to the court. You cannot espouse somebody else's cause," Justice Gogoi told the petitioner.
Must Watch
Neha Dhupia talks about interviewing her husband Angad Bedi
Google Pixel 3 XL vs Google Pixel 2 XL: What's changed?
A walk through the lanes of Kumortuli
Express Eye for Detail: #MeToo movement naming actors, directors and journalists sweeps India
For all the latest India News, download Indian Express App
Tags: Dipak Misra Ranjan Gogoi
Read More